So whilst driving past a field of cows Buddy and I have the following conversation.
Buddy "Daddy do you see the Black Bull and the White cow?"
Me "Yes Buddy I do."
Buddy "Did they have babies and that's why there are all the Black and White cows?"
Me "I don't know son, I really don't know"
Smile every time I drive past that field and see one Black, one White and 50 Black and White cows!!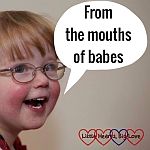 photo credit:
Holstein Heifers (1975)
via
photopin
(license)